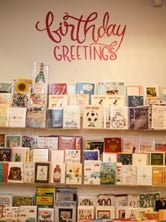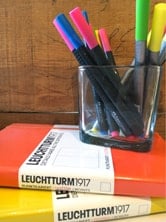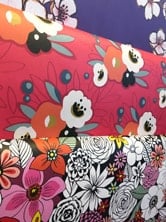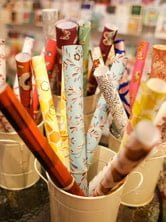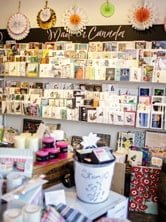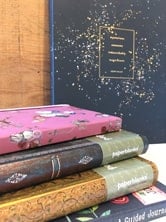 We are your first stop for greeting cards. We cover all life's big events. From Engagement and Wedding, to Anniversary, New Baby, Sympathy and Birthday Cards. We have it all.
Some of our favourite card lines include Emily McDowell, Rifle Paper Co., Alice Hinther, Clayboys, and Hug & Kiss Designs.
We have cards that celebrate happy times and cards that can pick you up and move you through difficult times.
We have cards that convey our deepest sympathies when loved ones leave us. Cards that congratulate on jobs well done and cards that celebrate new beginnings. And birthdays. We've got cheerful, beautiful birthday cards that hit just the right note. And our now infamous section called "Cheeky and Offensive". You will find some awfully funny ( though, some say awful) birthday cards.
Meet Owner, Molly Van der Shee
I am a Mom, a wife and a business owner! I live right here in Westboro Village and if I'm not in the shop, you'll find me poking around the independent shops along Richmond and down into Wellington West. So many great shops in Ottawa and if we don't have what you are looking for, I guarantee I can point you in the right direction!
Lines we carry - Canadian and Imported
Lucia
This Canadian-made line of bath and body is the ultimate little luxury. The scents are divine and the packaging is gorgeous. Whether buying for yourself or a friend, rest assured you this is an unforgettable gift.
Campy Candles
These delicately scented, hand-poured soy candles are made a stone's throw from Ottawa. Almonte is home to many talented makers and we are so lucky to be purveyors of this popular line.
Compendium
Compendium gifts are a collection of books, journals and greeting cards that are inspiring and thoughtful, vibrant and refreshing. The words and quotes provoke the very best in all of us and the illustrations will really leave you awestruck.
Funk Your Junk
We have carried this Ottawa-based brand for years. Candy wrappers and chip bags upcycled to pouches and best selling buttons that declare "Everyday Should Be Pyjama Day" or "The Older I get, The Less I Speak" are what you buy most!
"Always my first stop in Ottawa for party supplies and hilarious greeting cards. The selection is great, and there's always something new and fun to discover. Plus the owner Molly is an absolute joy!."
Robin C, Google Review
"Some of these cards are awful yet so darn funny, dirty and you must have a sense of humour to read through the C and O card section. This Village Quire is my local go to for all my greeting card needs."
Jeffrey M, Google Local Guide
"This store has the best cards - from sympathy cards for the loss of a pet to hilarious (and cheeky) birthday cards. It is my "go-to" for all things card and party-related."
Tracey Reynolds, Facebook Review